By Yamila Martinez and Giuliana Ordas
Introduction

In the framework of the International Girls in ICT day, from Marvik we decided to share some reflections that came from several of the women of our team about their beginnings in the ICT area to share experiences but also provide recommendations to motivate and inspire more women and girls to enter the world of technology. 
When do you think your interest in the world of technology arose and what prompted you to do it?
The interviewees mention that their interest in technology arose at an early age thanks to their curiosity for science and experiments.
They identify that this interest may have been influenced by their mothers, fathers, and grandparents, who provided them with toys related to science and experiments, such as test tubes, science games, portable laboratories, and other toys related to research and technology such as video games, robots, and programming. 
Some important milestones that also generated impact in this sense, were, for example, the access to their first computer, or even life experiences that led them, for example, to frequent hospitals, generated fascination and interest in wanting to know more about how "machines" could measure and analyze, for example, what was happening in the human body and help improve people's quality of life. 
However, other of our collaborators understand that technology began to interest them to a greater extent during their adolescence in the desire to better understand how things work. Likewise, they comment that during their academic training, they became interested in mathematics and engineering, disciplines that were the driving force to later, in their adulthood, define study and deepen their knowledge in Machine Learning as an area that combines both interests.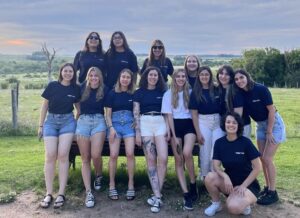 What would you recommend to women who want to enter the Machine Learning workforce?
Multiple learning options
First, they emphasize that it is not necessary to have a background in computer engineering to work in this area, in fact, there are other engineering and even careers that also have in their curricula, subjects such as mathematics, probability, statistics, and even artificial intelligence. However, there are also numerous free online courses on these subjects.  
In terms of knowledge, they suggest learning about mathematics, the basics of Machine Learning, and knowing how to work with Python as a basis for learning the rest of the technologies.

Participate in different communities
Due to the speed of technological advances, our experts recommend keeping abreast of developments and updates in the area. To achieve this, they suggest participating in communities such as Girls In Tech, Mujeres IT, HerLabs, or other organizations to learn about the latest news from other women in the IT sector. 
On the other hand, when deciding to dive into this job market, our collaborators recommend having a positive attitude, being patient and trusting in yourself, and being encouraged to present your resume to companies of interest. A good way to demonstrate your knowledge in these instances could be to share the projects you have worked on through a portfolio on GitHub. 
One of the employees understands that "the most effective opportunity to become familiar with the world of technology nowadays is being part of a startup since it allows you to become familiar not only with one area of the company but with literally all of them". 
The collaborative way of working that we have in Marvik allows that regardless of the role that each one has, people can see in a more horizontal way how the organization works, which provides a more holistic learning of the world of Machine Learning, not only from a technical perspective but also from the business itself. 
Broaden the vision of ICT
Another of the recommendations that emerged in this line talks about broadening the vision of ICT. One of our Delivery Leads commented that: "Sometimes we get confused and think that the only way to enter the world of software or machine learning is directly programming or understanding the technology from end to end, but sometimes it is good to see it the other way around, to understand its functionalities and use cases and from this, to see again how technology could approach from the business model, from the product, user experience or even its application in simple business models".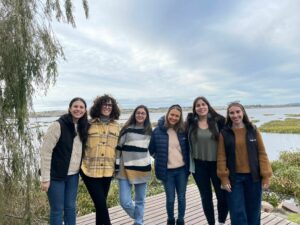 How was your training path to reach the position you have today?

Variety of educational paths
Each of our collaborators has very different educational paths to reach their current position. Some started in fields such as physics or solar energy, while others studied electrical engineering or discovered their interest in Machine Learning during the completion of their undergraduate theses when they decided to start exploring the subject further. 
Work opportunities
Some of them say that they started their professional training path through an opportunity as interns and research projects until they started as junior data scientists and followed that path of growth in Marvik until today where they have grown in seniority and responsibilities.
Keep learning
Being a constantly changing and innovative field, some of them complemented their training with online courses (some of the ones they mentioned were Udacity, Udemy, Coursera, and Digital House). In this sense, they also highlight the importance of parallel training through reading blogs/books to keep updated in the field
Despite the different backgrounds, all the interviewees made a great effort to get their current job and are passionate about what they do.
Final reflection:
Without a doubt, International Girls in ICT Day is an important date that seeks to promote inclusion and gender equality in the field of technology and computing. It is essential to continue promoting initiatives and programs that encourage girls and women to venture into these areas and to provide them with the support and tools they need to fully develop.
The different answers show the importance of stimulation from childhood but also point to the variety of opportunities that exist for learning about technology during adulthood.
It is necessary to continue working together to overcome the barriers and challenges that still exist in the field of ICTs and to ensure that girls and women have equal opportunities and access to education and the labor market in these areas. Only in this way will we be able to build a more just and inclusive future for all.
Special thanks
We would like to give special thanks to all the girls on the team who collaborated and shared their experiences with us and who, day after day, show us the importance of effort, perseverance, and curiosity as a driving force to encourage us to learn and understand how things work and how we can be protagonists of change and continuous improvement in all areas.